If you've never heard about the facial pressure points, learn about this easy life trick, ending the week with something fun and relaxing.
The process is simple, soothing and has many benefits, from relaxing and wiping away fine line to boosting energy and bringing you into a balance. This type of massage is all about acupressure, and stimulation the pressure points on your face!
Learn all the facial pressure points below and spend three to five minutes to have a facial pressure points massage after my face wash every night.
As Explained in a diagram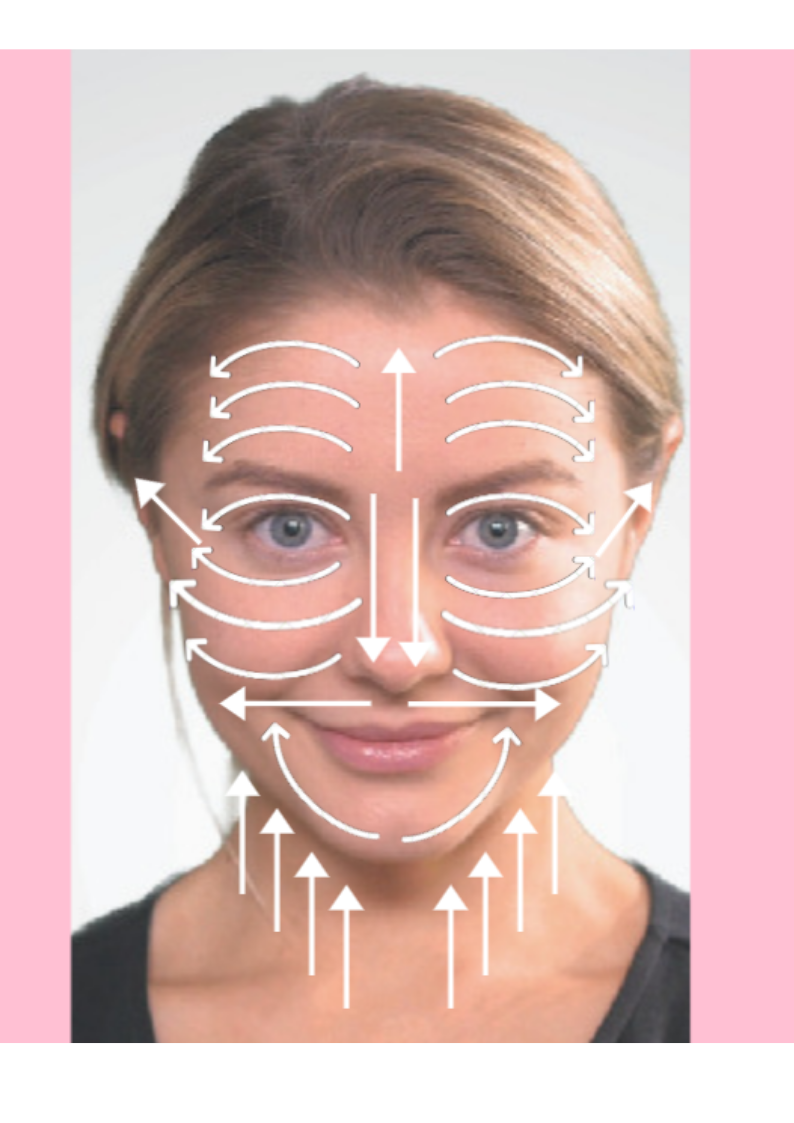 Using the finger tips
– Perform each movement three times, and
– Press at the beginning and ending points of each movement for 3 seconds.
Major pressure points
Eye (Press the inner eyebrow and the temple)
Ear (Press the hollow just in front of the ear)
Nose (Press at either side of the nostril)
Neck (Press the hollow just below the lower jaw)
This simple pressure points massage improves circulation by gently enhancing the metabolism of the skin while relaxing tight and tired facial muscles.  The movements also work along lymphatic nodes of the face, pumping out toxin and water retention that can cause puffiness and sluggish skin.
DO 2 IN CLINIC TREATMENTS AT HOME
I must admit I am too busy to perform this pressure points massage every day.  Instead I love to use Kathleen Natural Facial Ionic Treatment Device weekly to do my facial massage.
Facial Ionic Treatment Device is a cordless, inexpensive and surprisingly effective equipment to improve skin appearance. This facial treatment device has combined the ionic micro-current and pulsations to let you have two different in-clinic treatments at home!
(1) Lymphatic Drainage Massage
Lymphatic Drainage is a therapeutic massage treatment using by different spas.  The massage uses very gentle and long rhythmic strokes to increase the flow of lymph and reduce toxins in our face. Lymph is a key immune system by draining away toxins from our body.
Therefore, lymphatic drainage massage is good for relaxing, improving circulation and pumping out toxin and water retention.
Check out the youtube tutorial here:  https://www.youtube.com/watch?v=9apFtijtKSo&t=1s
(2) Facelift Treatment
Ionic treatment is a popular facial treatment which uses a large quantity of negative ion to push the nutrients from the skin care products into deeper layers of the skin. It helps the skin to absorb the nutrients deeper and quicker. The 'anti-gravity' motions keep your skin look more plumper and firmer.  I like to do this Facelift Treatment every alternate week to help the skin look the best.
Check out the youtube tutorial here:  https://www.youtube.com/watch?v=OCGFR…
Purchase this 2-in-1 Facial Ionic Treatment Device here.
– Kathleen Natural