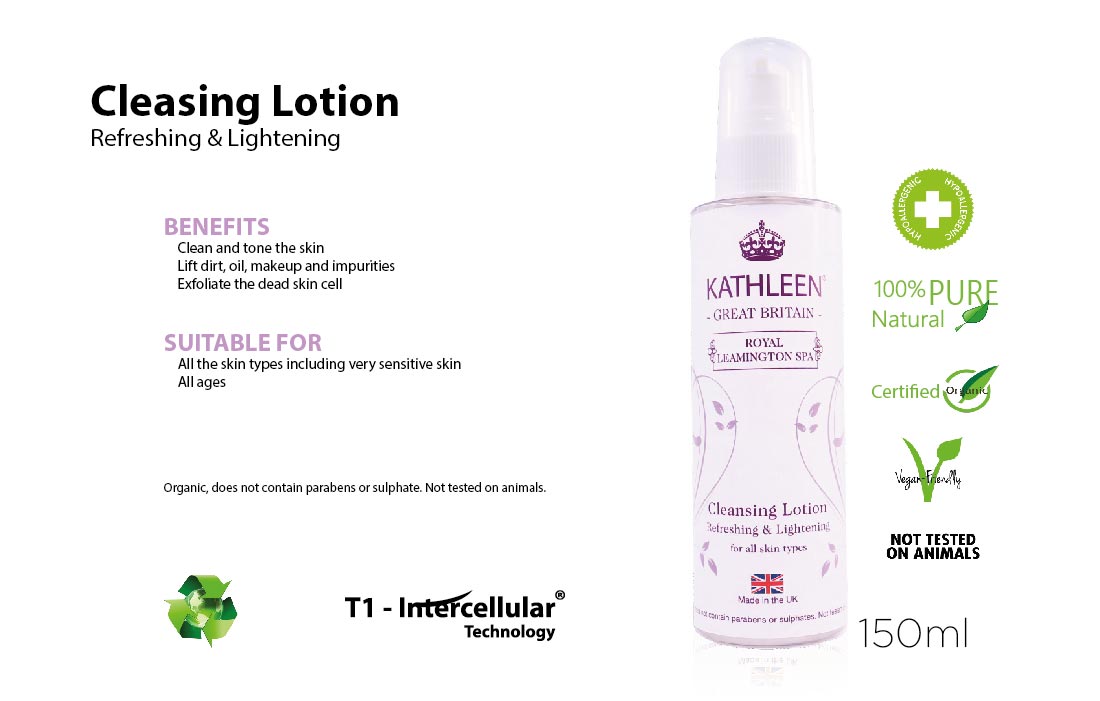 INSTRUCTIONS
Step one: Apply one or two pumps of the cleanser to the dry skin, massage deeply with fingertips to lift dirt, oil, makeup and impurities, cleaning deep into the pores.
Step two: Rinse gauze muslin face cloth in hand-hot water and wiring out before gently exfoliate and remove cleanser. Use a clean section of the cloth for each part of the face, rinsing the cloth thoroughly during cleansing. If you prefer, splash cold water on your face at the final stage to tighten your pores. Pat dry and follow with Kathleen Tonifying Mist over the skin.
Always cleanse hands before applying any products in order to prevent germs, bacteria, dirt or other contaminating substances from being transferred from your fingers.
If you are an individual with sensitive skin, we recommend applying a small amount of the product to the inside of wrist or elbow area and leaving on for several hours as a "patch test". This process will help you to assess whether this product is compatible with your skin type before you apply it to your face or eye area.
For optimal maintenance of the efficacy and integrity of the product, do not expose to extremes of hot or cold temperatures. Ideally, products should be stored in a dry place at room temperature and away from areas of humidity or that incur frequent changes in temperature such as the shower or bathing area.
When using skin care preparations for the care of skin around the eye area, it is important to apply in gentle tapping motions along the orbital bone area expanding outward from the cheek toward the temple area, avoiding direct contact with the eye or immediate eye area.
For external use only. Keep out of reach of children. Avoid contact with eyes. Discontinue use if skin irritation occurs. Consult your physician if prolonged irritation ensues after removing product from affected area.
The 150ml version includes 2 gauze muslin cloths (Note that these are not included with the 50ml size)
Blogger's Review
"I removed the majority of my make up with a make up wipe and then used the cleanser followed by the mist. The cleansing lotion is to be applied to dry skin and massaged deeply using your fingertips. With the Toner I could really feel a difference after using this combined with the cleanser. My skin felt lighter, fresher, clean and soft with the Kathleen products and would recommend if you have sensitive skin or are looking for organic luxe beauty products."
"This Cleansing Lotion even removes all of my mascara! My skin feels so smooth, soft, refreshed and more importantly so clean after using this Cleaning Lotion. After cleansing my face, I use the Tonfying Mist to tone my skin. This can be used in 2 ways – you can either spritz straight over your face, or apply to a cotton pad and sweep over your skin. I use both ways – usually a quick spritz in the morning, and I use with cotton pads in the evening. My skin feels so fresh and hydrated after I have used this, and wow, it smells amazing – its no wonder as it contains extracts of Aloe Vera, Chamomile and Lemon. I would highly recommend both the Cleanser and Toner – they have left my skin feeling smooth, hydrated and fresh."
"They're life changing. Life. Changing. One thing that stood out to me about this brand in particular, besides the fact they are cruelty free, is that the products are all made from natural products which is essentially what Kathleen revolves around. The cleanser paired with the Rebalancing & Soothing Tonifying Mist makes the ultimate tag team in the skincare world. It's good stuff, I'm telling you. It doesn't affect the way make up sits on my face at all. If anything, it helps apply it a lot more smoothly. 10/10 would recommend."
"After using the Kathleen Natural Cleanser & Toner, my skin felt really fresh, hydrated and glowing. What I really liked about these products was the gauze muslin cloth that's used to remove the cleanser. It's almost like all the dead cells on the skin get removed during this process leaving it clean and fresh. The tonifying mist is excellent and again really leaves your skin fresh and clean."
"I think they are great products to cleanse and tone your sensitive skin. The Refreshing & Lightening Cleansing Lotion is designed to lift makeup, dirt, oil and impurities without leaving the skin dry. After using the cleansing lotion, your skin is ready for the next step: the Rebalancing & Soothing Tonifying Mist. You can spray it over the face and neck, or you can use a cotton wool pad. The toner can also be used during the day to refresh your makeup. The great thing about this product is that it helps to reduce redness and irritation. For this reason, it can also be used after waxing or exfoliation."
"The Cleansing Lotion breaks down all makeup so quickly, even full face glam, and your skin is left feeling super cleansed and cared for. The cloths provided are fairly smooth with a slight texture to it, which helps exfoliate the skin at the same time as removing product and impurities. I love that the formula for the Tonifying Mist is infused with aloe vera and chamomile as it really soothes my skin and lifts and brightens it at the same time. I find it does improve the impurities in my skin and smoothes out any imperfections to restore some radiance and glow. This is so lightweight theres no need to pat it in and you can apply makeup straight away if you use this is the morning, or you can use it to refresh your makeup – it doesn't move or ruin it at all!"
The 150ml size includes two muslin cloths, so no need to purchase these separately! The cleanser lifts foundation off easily, and the muslin cloth gently exfoliates your skin – getting rid of any dead skin cells, meaning not only are you left with clean skin, but smoother and brighter skin, too! Seriously, I've just used it again and am sitting here stroking my skin – it's so soft!
THE BEAUTY BANK
Is a lovely rich creamy lotion with a slightly woody aroma. With 6 active botanical ingredients, this cleanser is designed to specifically help to lift dirt, oil, makeup and impurities, without drying the skin.
It's a beauty to use, for £29.50 you're getting a lovely product that performs well and nourishes during the cleansing process. With a soothing feel, I felt my skin was pampered during the cleansing process and lightly exfoliated with the Kathleen muslin cloth. When you cleanse with a hot cloth, it's a lovely facial treatment that gets into the pores and removes impurities well, leaving you relaxed and fresh faced.
Ingredient List:
Aqua, organic vegetable glycerin***, organic tamanu (calophyllum inophyllum) seed oil***, organic avocado (persea gratissima) oil***, organic rosa damascena flower water***, organic lavandula angustifolia flower water***, emulsifying wax (cetearyl alcohol & polysorbate 60)*, potassium oleate**, palm stearic acid*, xanthan gum*, lemon (citrus limon) extract*, potassium citrate*, citric acid*, potassium cocoate**, benzyl alcohol*, dehydroacetic acid*, benzoic acid*, sorbic acid*, parfum
***licensed by Soil Association
**organic origin
*natural plant origin
Active Ingredients:
Organic tamanu seed oil
Extracted from tropical tamanu nut tree, contains 3 unique compounds (calophyllic acid, calophyllolide and lactone) for anti-inflammatory, antibiotic and minor repairing. It is a remarkable healing agent for stretch marks and age spots, leaving the growth of healthy skin.
Organic avocado oil
It's the best moisturizing agent due to the presence of fatty acids and vitamin E. It also contains a substance called sterolin which has shown to facilitate the softening of the skin and reduce the incidence of age spots.
Organic vegetable glycerin
It's the most environmental friendly solution for skin care, protecting the skin and keeping moisture and elasticity. It is non-irritating, soothing and is heralded for its ability to moisturize dry and cracked skin.
Organic rose water
Rose water is perfect to freshen the skin, and to naturally hydrate and nourish it.
Organic lavender water
Calming and detoxifying the skin.
Lemon extract
Rich in vitamin C and naturally balance the pH level of our skin.